Tell us a little about your journey and how you became involved with The Pinnacle Foundation.
After high school I studied Bachelor of Science (Veterinary Bioscience) and graduated in 2017, gaining entry into the Doctor of Veterinary Medicine. However, my dreams of becoming a veterinarian were dashed by my diagnosis of Ehlers Danlos Syndrome, and later Cerebral Palsy, which due to disability discrimination from my university forced me to terminate my studies. This injustice sparked in me a passion for equity and inclusive education, so in 2018 I transferred to Flinders University and began studying a double Bachelor's degree of Secondary and Special Education. Currently in the third year of my degree I was lucky enough to be awarded the Pippa Downes Pinnacle Scholarship, as I have medalled for Australia in Para-Badminton and for South Australia in Para-Rowing, as the first female para rower to represent South Australia. I am also a Flinders University Scholarship Athlete, Challenged Athletes Foundation Athlete, and 2019/2020 Flinders University Student Association (FUSA) Disabilities Officer, and also work with Julia Farr Association, a disability advocacy organisation, on projects to make schools and the education system more inclusive to students with disabilities.
What have you gained from being part of the Pinnacle program so far?
I have gained incredible bonds that I hope will last a lifetime, as well as more confidence and value for myself as the Pinnacle family have helped me to see sparks in me that I had not previously seen. I have also gained an overall sense of security and comfort that I have not had before due to coming from a single-parent, low-income family. Even the simplest things such as being able to purchase my own copies of textbooks so I do not have to rely on scarce library copies has allowed me to focus on and thrive in my studies more than ever before. Gaining the backing of the Pinnacle Family, a network of people who just want to see me succeed not only academically but in all aspects of my life has made a bigger impact than I ever could have imagined and I will be forever grateful.
What has your experience with your mentor been like?
My experience with my mentor has been really organic. In my interview I was asked to prioritise three factors of what I would ideally like in a mentor in order to try and find me the best match possible; sharing my gender and sexual orientation, working in my area of study, and living in the same state as me. Somehow, The Pinnacle Foundation found me the most incredible mentor who met all three factors – we are so alike that it's uncanny and we spent three hours chatting non-stop the first time we met. We are both super busy people so take a relaxed and organic approach that works really well for us both. When I first got the scholarship I was unsure what I would gain from a mentor, but now I have realised how invaluable it is. Even the simplest thing of meeting my mentor's wife and children made me realise that even though getting married and having children is certainly something I want for myself, I had never actually spent time with a same-sex couple and their children. This realisation really shook me, as up until that moment I hadn't had someone to look up to and to show me what my future could look like. It made me realise just how unintentionally damaging it can be to raise LGBTIQ+ in a predominantly cis-gendered and heterosexual society without providing them role models who share their gender and/or sexual identity.
What advice would you give to a young person who is thinking about applying for The Pinnacle Foundation Scholarship Program?
Definitely apply! It took a friend of mine to give me the gentle nudge I needed to apply as I had previously read through the description and didn't think that I would be accepted because I hadn't been kicked out of home or anything drastic like that. I didn't realise how much I needed the scholarship until I got it. When I applied it was primarily the financial element that I believed would be most beneficial, however what I did not understand was the huge positive impact that the Pinnacle Family and in particular my mentor would have on me and my studies. Knowing that even in my darkest moments I now have a family of people who value and support me in every way they can has provided me with a source of comfort and safety that I have never had before, and I will be forever grateful for. So, my advice would be to believe in yourself and submit that application!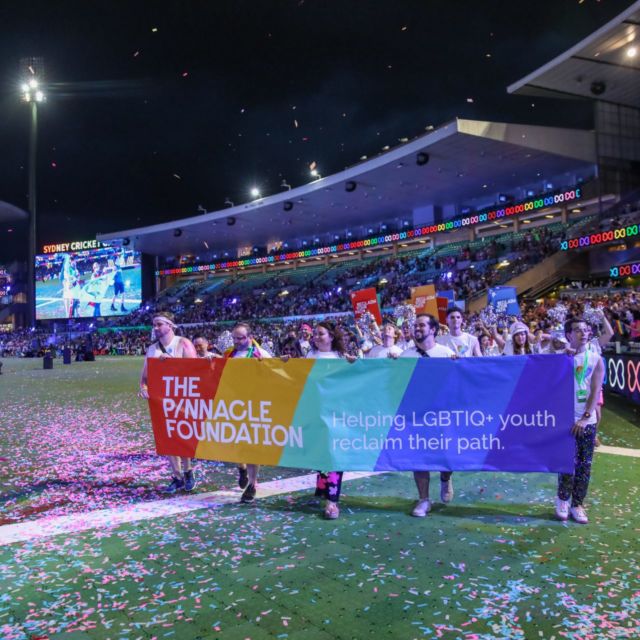 The Pinnacle Foundation participated in our first ever #SydneyMardiGras and what an amazing night it…