Caitlyn took part in The Pinnacle Foundation's Scholarship program during 2014-2017 while undertaking a Bachelor of Laws and a Bachelor of Arts at the University of Adelaide. Caitlyn shares with us her journey as a Pinnacle alumni and what she has been up to since completing her studies.
Tell us a little about your journey and how you became involved with The Pinnacle Foundation.
I applied for the Pinnacle Foundation Scholarship Program in my second year of a five-year university degree. I was living out of home and really needed the financial support the program offered. The scholarship program also seemed like an amazing opportunity to connect with a community of people who shared similar experiences and goals as I did. I was thrilled when I received a call saying I had been accepted into the program. I was told that my mentor would be Judge Charlotte Kelly of the Federal Circuit Court — she had graciously agreed to mentor me when asked by the Pinnacle Mentor Manager. I am so grateful that Judge Kelly agreed to mentor me — not only did I gain a mentor, I gained a lifelong friend. Judge Kelly and I caught up every few months during my four years as a Pinnacle scholar. She was always so generous with her time and provided me with incredible guidance and advice. Judge Kelly looked out for me even after my time as a Pinnacle scholar came to an end, and we still keep in touch today.
What did you gain most from being part of the Pinnacle program?
When I received my scholarship I was living out of home and studying full time. University life can be really challenging, and the financial assistance from my scholarship was vital for me. I was able to focus more on my studies and could finally afford my textbooks. I also cannot overstate how important the Pinnacle community was to me. Meeting so many talented and driven LGBTIQ+ people opened my eyes to the world of support and opportunity that exists for us. It allowed me to see that I could be happy and successful in my career, never compromising on who I am.
I would strongly encourage other young LGBTIQ+ Australians to apply — don't hesitate, you are deserving of this scholarship and you have a unique voice to contribute to our community. It is important to understand that the program caters to all types of people and career choices; no matter what career you have chosen, the Pinnacle Scholarship Program can be an option for you. The benefits of being a Pinnacle scholar are boundless and it is so heartening to see the program go from strength to strength and support increasing numbers of young LGBTIQ+ Australians.
What have you been up to since finishing your degree and since your time as a Pinnacle scholar?
I have been very busy since finishing my degree in 2018. My Pinnacle scholarship helped me reach my full potential at university — I graduated with first class honours, the Justin Skipper Prize for the student who took the most active and effective part in student life throughout their degree, and the John Perry Prize for International Law. I have made the move from Adelaide to Melbourne to pursue my dream of working in international law. I currently work as an Associate to the Honourable Justice Zammit at the Supreme Court of Victoria, working on civil and criminal matters. My work is incredibly rewarding, and I am so grateful that I have been able to pursue this opportunity with the support of my Pinnacle mentor who acted as a personal reference for me.
I have also made sure to keep actively involved with the Pinnacle Foundation. I recently became involved with the Victorian Committee, and I often speak at Pinnacle events and share the impact the Pinnacle Foundation has had on my life. I look forward to continuing my relationship with the Pinnacle Foundation in the long-term. It is really important to me to give back to the organisation that has provided me, and so many others, with such vital support.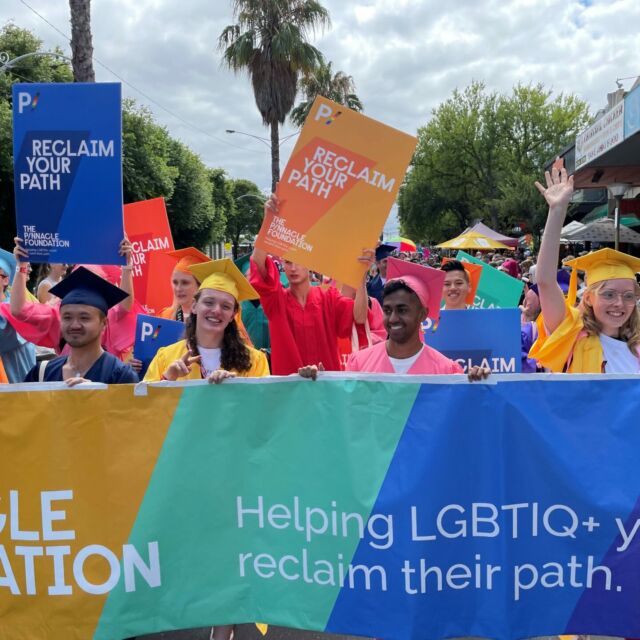 The Pinnacle Foundation marched proudly (and rather colourfully) in Victoria's Midsumma Pride March. Scholars, alumni,…