The History of The Pinnacle Foundation
The Pinnacle Foundation's journey began serendipitously back in October 2005 when Sean Linkson OAM, filling in time at Los Angeles airport whilst waiting for a flight back to Australia, picked up a copy of Time Magazine. Sean's attention was captured by the magazine's cover which featured the headline 'The Battle Over Gay Teens.' The article touched on the effort to eradicate anti-gay speech and bullying in schools and to set up clubs and advocacy groups to support gay teens. But the story also underscored the ongoing tension between religion and homosexuality. For every social group devoted to ensuring gay students get the same chance of acceptance, there is an opposing group, typically religiously affiliated, seeking to "cure" kids of their gay lifestyles.

Philip Comans, Sean's partner at the time, now husband, and one of the four co-founders of The Pinnacle Foundation, recalls that fateful day and being equally impacted by the article, especially the mention of The Point Foundation, which was offering scholarships and mentors for LGBTIQ+ students to attend universities in the US. The objective was simple – to help these young, often marginalised people fulfil their potential and achieve their dreams, despite the discrimination and setbacks many faced due to their sexual or gender identities. This concept was the spark that ignited the thought, "Is this something we can implement in Australia? Does something like this exist already?" Philip recalls.

So, inspired by the work of The Point Foundation, Philip and Sean made an effort to contact the US founders who offered them great insights into setting up something similar in Australia. That was the first step in a long journey to establish The Pinnacle Foundation. Philip and Sean sat down to think about what was needed to get started, and who they needed to work with and engage. With determination Sean remembers saying, after discovering there was a huge need, "Let's really do this."

Sean and Philip then approached two long-time friends, Susan Brooks and Paul Clark, who went on to become the two other founders of Pinnacle. Paul remembers sitting down one evening over dinner at Sean and Philip's home to discuss how we might create this charity. "We definitely knew there was a need as we tried to start something very informally once before. A few friends of ours collected some money, put some posters on telegraph poles and gave some money to students at the arts school and never heard from them again. So, when I spoke with Sean and Philip and saw the Time Magazine article about this organisation which was doing what we wanted to do and was doing it well, I knew we could do something similar in Australia." Philip recalls that from that first meeting they began a plan of action to approach youth organisations to see if something similar was in place in Australia so as not to duplicate an existing initiative. "We discovered that amongst us there was plenty of experience – Paul and I with our experience in sponsorship and revenue building; Sean with his corporate experience in headhunting and Susan with her experience in compliance and governance.

It was a slow burn at first, taking nearly five years to issue the first two scholarships, with the main priority to ensure that Pinnacle was set up properly with impeccable governance, policies and procedures in place to mitigate any risks for Pinnacle's patrons, ambassadors, donors, and supporters," remembers Philip.

Susan recalls receiving that initial phone call from Philip and Sean inviting her to come along to discuss setting up something like The Point Foundation here in Australia. Her first thought was how to overcome the differences between the Australian and US education systems, and the entirely different attitude towards philanthropy. Through their contacts, the four founders elicited fantastic pro bono support from law firm Herbert Smith Freehills and global advertising agency Saatchi & Saatchi, who at the time was headed by Simone Bartley, one of the only women to head up a major advertising firm globally. That support was so amazing and really gave the concept of The Pinnacle Foundation some gravitas and credibility. "What struck me the most was that there appeared to be enough support at the top end of town to actually kick it off. Herbert Smith Freehills put our corporate and legal structure together, wrote our Constitution and gained our charitable and tax deductibility status, while Saatchi & Saatchi created our branding, imaging, comms style and website. All of this support began to give Pinnacle a sense of structure and gave me some confidence to believe that we could actually get our idea off the ground," recalls Susan.

The support received was practical and gave the four founders the opportunity to explore how The Pinnacle Foundation could best serve young LGBTIQ+ youth in Australia. "It is easy to forget that we now live in the time of marriage equality and major corporates are very public about their support of Diversity and Inclusion. Back then though, D&I was just an emerging concept in corporate Australia. Even though sectors like finance and retail had many LGBTIQ+ staff, companies were not raising their hands to support LGBTIQ+ causes. In fact, the financial support initially came from private individuals and eventually corporate organisations followed. We have come a long way in those 15 years," recalls Paul. The social context in those days and the lack of public support for LGBTIQ+ rights further validated the need for an organisation such as The Pinnacle Foundation to exist and succeed.

Within the four founders' social group there were people who had reached successful points in their careers who were looking for a cause to support. The idea behind The Pinnacle Foundation was to create an aspirational charity which was not dealing with a direct crisis, but rather one that was supporting youth in a positive way by encouraging education and mentorship opportunities. The unique thing about the concept of Pinnacle was that it was completely different to any charities that existed at the time, and the aim was to tap into people who would normally not give to charity and encourage them to give to a cause they could relate to. Philip remembers bumping into John Douglass and Warren Stanborough whilst on holiday and speaking to them about becoming the first supporters of Pinnacle. So moved were they, a generous three-year donation followed, and Warren and John become the first Cornerstone Members. They are still actively involved to this day. John and Warren's support did two major things – firstly, it allowed for scholarships to be initially awarded and secondly, it gave validation that this concept could be successful and get the backing of the community.

The first corporate sponsor was the Commonwealth Bank, who remains to this day one of our leading partners. In fact, the banks generally were the first corporate sector to show Pinnacle their support. The first Patron was The Hon Michael Kirby AC CMG who, as Sean recalls, only wanted to become involved with it "if it was the best run, best governed, ethically unimpeachable, and the most appropriately structured organisation," as the risk of supporting an organisation which did not meet this criterion was high for him and other Patrons. Susan, Paul, Philip, and Sean worked tirelessly to ensure that all the risks and fears were managed and addressed, and this due diligence and care is ever present in the governance of the Foundation to this day.

When planning and implementing the core elements of The Pinnacle Foundation's scholarship program, the four founders not only used their collective skills and expertise in sponsorship and fundraising, governance, networking, and strategic planning, but they also brought their backgrounds of mostly coming from either suburban, working class, and migrant families where they were often the first within their families to undertake tertiary education to guide them. All four founders had been fortunate enough to have met someone who took them under their wing when they were first coming out, a mentor who introduced them to key people in their chosen fields and showed them the way. This shared mentorship experience was instrumental in achieving success in each of their lives and an element that they thought would be essential to the success of The Pinnacle Foundation's scholarship program. Mentorship, not only financial support, was vital as it ensured that young LGBTIQ+ people could see what their future success looked like as an LGBTIQ+ person, something that future scholars would tell us they had never experienced before. Additionally, having someone who could connect them to the right people, point them in the right direction and share their knowledge and experience, not only professionally but in their personal lives too.

The challenge for the four founders was to find the right people who would take on the mentor roles, people who were prepared to be out and proud in a country and society which was far from embracing LGBTIQ+ causes and issues. This challenge was particularly evident in finding women who were able to be openly engaged and out and proud. Part of the challenge in recruiting women was the double glass ceiling experienced by women; that is the professional glass ceiling and the added discrimination of queer woman operating in a corporate environment. There have been changes in the community that are evident today. Even though the disadvantages are still there, we have come a long way from the Time Magazine article, which featured a white CIS gendered gay male, to now where we have an increased support for trans youth, non-binary youth, and queer youth from different cultural backgrounds.

The aim always was for Pinnacle to represent the complexity and diversity of the LGBTIQ+ community in its scholars, alumni, mentors, and the greater Pinnacle family. The Pinnacle Foundation is tirelessly working towards bridging the gap in diversity and we can see more and more women stepping into leadership roles. This was a challenge during Pinnacle's formative years and this challenge is still present to a certain degree today. "There was a big concern of being too high profile on LGBTIQ+ issues and the damage that this involvement could have on your career. I probably would not have been involved if I had not been involved in Mardi Gras as company secretary for four years when I first arrived in Sydney and then in the Commission on the Status of Women in Canberra. Had I not had that background, I probably would not have been strong enough to be able to deal with all the negatives that invariably follow when you become too public, and there were a lot of negatives," recalls Susan.

The Pinnacle Foundation would not be the organisation that it is without the innumerable hours dedicated by each founding member, "The amount of time dedicated, particularly by Sean, his tenacity and stubbornness to not let the idea of The Pinnacle Foundation go was challenging because it takes you away from other priorities and other responsibilities," states Paul. Philip adds, "Sean just picked and picked away at it and sometimes it seemed like nothing was happening, but Sean kept picking away at it. It is worth mentioning that we were all in full-time and very consuming work – this was all volunteer work done after hours and done between other priorities. Living with Sean, I know that he was doing a second 40-hour-a-week job on Pinnacle for years and years all on top of his 60-hour-a-week day job."

It took many dedicated volunteers and helpers to get Pinnacle up and running, in particular, Susan Brooks and Sean Linkson OAM. The Pinnacle Foundation would not exist today if Sean had not "surrounded himself with good people and inspired them through his own doggedness and dedication. If there is one thing that Sean is, it is dogged in determination," states Philip. Paul adds, "I have to add that none of this was ever done for anyone's ego, especially Sean's ego. I have seen so many charities where the founder gets involved and it will be all about them for the next 20 years and they never set the organisation up for success where they can pull away and hand over. There is that recognition that organisations grow and change, and it is not about one person's commitment. Sean had the foresight to be able to step back and it was never, ever about just one person, rather it was about supporting young LGBITQ+ Australians reclaim their path." Sean adds, "The Pinnacle Foundation would not exist without the tireless work of Susan Brooks who is our longest serving volunteer, who gives more time than she probably has to give and whose brilliance and dedication has meant that The Pinnacle Foundation is what it is today. Also, it must be noted that for the first seven years The Pinnacle Foundation was run entirely by volunteers and all of us are the sum of the parts, and there were a lot of parts. I would like to acknowledge the enormous effort by everyone that helped us along the way. Everybody that has come onboard in every single role that you can possibly imagine have done so out of the goodness of their heart and have given their time, dedication and effort to make Pinnacle what it is now." Susan adds, "My hope is also that we see more involvement from women as donors, sponsors and volunteers. The number of women participants is not representative of us within our community, and it should be." Sean adds that he hopes for an increase in diversity, "Diversity in leadership, diversity in volunteer participation, diversity in scholars, diversity in donorship and that we see a more even representation across the community."

When asked what their hopes for the future of The Pinnacle Foundation were, each founding member agreed that they dream of a future where The Pinnacle Foundation will no longer be needed, that discrimination against young LGBTIQ+ youth will cease to exist and that every young person in Australia will be on an equal footing and able to achieve their full potential. While the four founders all acknowledge that this is not something that will likely happen in this lifetime, or the next, the hope is with each passing year we become one step closer to equality and abolishing all discrimination.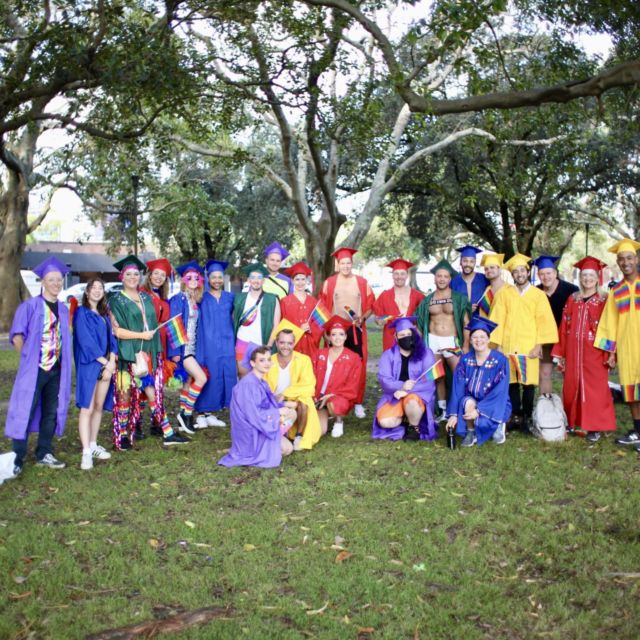 If you're anything like us, reliving the amazing Sydney Gay and Lesbian Mardi Gras Pride…