Tell us a little about your journey and how you became involved with The Pinnacle Foundation.
I'm Izzy, a 25-year-old Veterinary Bioscience/Veterinary Medicine student living in Adelaide. I'm 3 years into my degree and have another 3 years until I graduate as a vet. I became involved with The Pinnacle Foundation when I submitted an application last year for the 2020 scholar intake. To my surprise, I got an interview and ended up receiving the BHP (South Australia) Scholarship.
What have you gained from being part of the Pinnacle program so far?
The most valuable thing I have gained as part of the Pinnacle program is connections with fellow scholars, my mentor and the broader Pinnacle family. My fellow 2020 Pinnacle scholars have become close friends, and, along with the Pinnacle family, have formed a nationwide network of support. Pinnacle has allowed me to purchase much needed educational equipment that I otherwise would not have been able to get on my own and allows me to focus more on my studies and less on working my part-time job just to get by. This type of support is invaluable to me.
What has your experience with your mentor been like?
My mentor is a vet who owns her own practice and has been practicing veterinary medicine for many years. She has given me invaluable insight into the industry and is someone I know I can rely on and ask questions of for many years into the future. Having someone who is experienced in the industry is invaluable for a veterinary student, as we get lots of training about how to do the medicine side of veterinary medicine, but not much insight into what else goes into the profession – owning business, mental health, and interpersonal relationships.
What advice would you give to a young person who is thinking about applying for The Pinnacle Foundation Scholarship Program?
My advice is – beware impostor syndrome! I know I had impostor syndrome, as well as many of the other Pinnacle scholars, and thought that I didn't deserve the Pinnacle Scholarship. You do deserve it, it is made for you: young, LGBTQ+ students. Get your application in! The relationships you make will last a lifetime, and that is much more valuable that the scholarship funds themselves.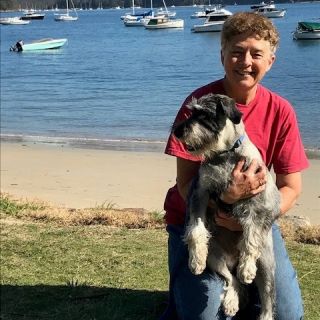 Lorraine Hall has been a valued mentor at the Pinnacle Foundation for nearly four years,…