Tell us a little about your journey and how you became involved with The Pinnacle Foundation.
I am in my final year of Law (Honours) and Arts at Monash University. I received my first Pinnacle Scholarship courtesy of the Commonwealth Bank in 2019 and have benefited immensely from the funding and mentoring.
What have you gained from being part of the Pinnacle program so far?
Pinnacle has helped me in a variety of ways.
The Pinnacle funding has reduced the magnitude of financial stress in my life. I am using my 2020 funding to buy a new laptop since my old one is almost dead.
My Pinnacle mentor has empowered me by helping me understand my strengths and checking in with me regularly. His mentorship has helped me maintain motivation during the Covid-19 lockdown. In addition to my mentor, the Pinnacle team have assisted me immensely by connecting me with a variety of helpful contacts that have helped me with my career and academic research.
What has your experience with your mentor been like?
My experience with my mentor has been incredible. When we were initially connected together I was sceptical of how compatible we were and whether our career goals were aligned in earnest but the fact that he is different from most of the other guides in my life is what makes him so helpful. I have been stunned with the amount of time he has invested in me and that alone has increased my self-confidence because I know if he sees something in me that he wants to support then perhaps my inner saboteur is incorrect. He has been essential in my thesis writing process and has helped me overcome disappointments to maintain motivation. His feedback is honest and I know he is an advocate for me.
What advice would you give to a young person who is thinking about applying for The Pinnacle Foundation Scholarship Program?
You have nothing to lose and you have much to gain. Particularly if you have felt isolated from the LGBTIQ+ community in the past, being a Pinnacle Scholar is a fantastic way to meet new people and be inspired.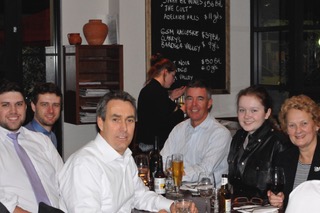 The Pinnacle Foundation's journey began serendipitously back in October 2005 when Sean Linkson OAM, filling…