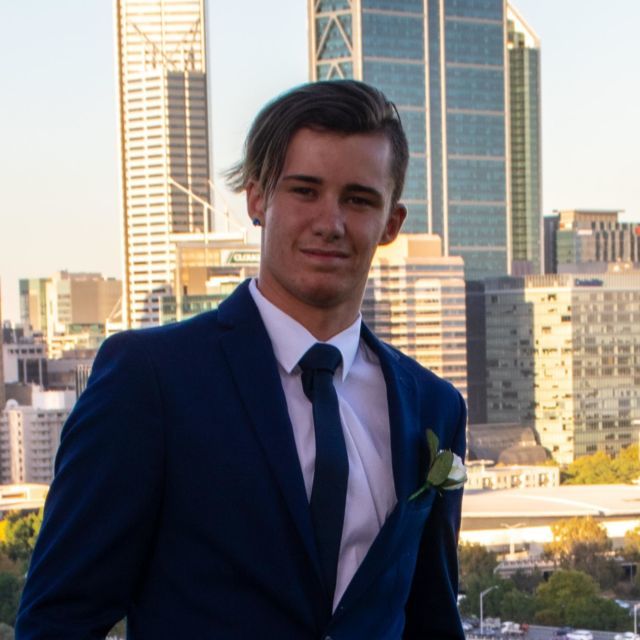 Brayden cannot remember exactly what he put in the note to his mum. It was, he says, done in a state of high emotion – he had something important to say and needed to say it quickly. Once Brayden finished writing, he left the note where his mum would find it when she got home. Then, he went into the bathroom.
"I got under the shower, and I just started to cry," Brayden says. "I was still there when mum got home. She was like, 'Come on, Brayden, come get out of the shower, everything is alright'. We had a talk for a bit, and then dad came home, and I told him too."
Brayden had just told his parents he is gay – a huge step. But none of it was how he had hoped or planned to do things. The trouble was a trusted friend had just told their entire year group at high school about Brayden's sexuality.
What unfolded next sounds like the plot of a teenage coming out movie, or a remake of Mean Girls. Whatever the case, Brayden says it was not a 'production' anyone would willingly 'star' in.
"I was outed", Brayden says. "Simple as that".
"I got home to a bunch of messages questioning me, 'is it true?', and all that kind of stuff. Everything was alright for a while, but you could see a slow decline happening with people switching off in the way they felt about me … and it ended up with a lot of threats and a lot of horrible things being said to me about me. Then, people started to threaten to out me to my parents, so I thought, 'Right, I need to do this now.'
The note marked both a beginning and a closing: the start of a new chapter in Brayden's life, along with the end of some of the things most familiar to him.
In a stroke of good timing, Brayden won a scholarship to a different high school, away from the threats and nastiness. Even so, he still found himself becoming much more reserved, much less willing to trust people and make friends. There was, though, at least one constant: his passion for sport.
"I am very influenced by sport; it is the one thing that keeps me in a stable place where I can go about life normally. It has always been a massive part of my life. I played football, especially when I was younger, and then I moved into tee-ball, and then state level tee-ball … I played state level football."
To use a (terrible) sporting analogy, it was not all beer and skittles, though. Brayden gave up playing football because he did not feel safe – some of the people who had made his life hard at school played on the same team.
Brayden was 15 when his coming out journey started. It has not always gone where expected. It began with a hastily written note, and tears under the shower. That was not his choice. But where Brayden finds himself now certainly is. He's just celebrated his 19th birthday and finished the first semester of his first year studying Exercise and Sport Science at Perth's Edith Cowan University.
Brayden is doing that with the support of The Pinnacle Foundation's Bibbulmun Fund Scholarship, which is awarded to young LGBTIQ+ Indigenous people. With scholarships now open for 2023, Brayden is keen to encourage other young Indigenous Australians to apply.
"Getting the Pinnacle scholarship was a really good feeling because I felt accepted and a part of something that will become another family for me", Brayden says.
"I am thankful for it and the fact that I will get to do good things with it."
Brayden's new Pinnacle family came with the help and blessing of his first one – his mum found out about the scholarship. She was the one who told him about it, and then encouraged him to apply.
When Brayden found out he'd been successful, mum and dad were the first to congratulate him.
"My mum and dad are definitely proud of me", Brayden says.
"They have seen me succeed. It is important for me to be able to make them feel proud of me because they have done so much for me, not only since I have come out, but for my whole life. Making them proud makes me feel like I have used everything that they have given me and done something good with it."
The Pinnacle Foundation scholarship has also opened another path of discovery for Brayden – his Indigenous heritage.
"I am a Noongar man, but there is not a lot of knowledge we have about our culture or any of our family", Brayden says.
"I do know we have family who fought in World War One, some of the first Indigenous people who fought in that. I would like to get to know more about the culture, to understand it and be a part of it … that is important to me."
Needing to leave his old football team was one of the more difficult things Brayden faced, but this year has brought some change there, too. Team sport is firmly back in Brayden's life – a basketball squad.
"I have gotten back to playing sport with people who have been supportive of me, joined a team with them, and it has been the most positive sporting experience that you could imagine … it is the first time I have felt 100 percent safe to be myself in sport and it is great!"
Naturally, Brayden hopes other young LGBTIQ+ people, particularly those who love sport, can read his story, and see that there is a place for them in sport – "I want people to know and feel they are valid", he says. There is something else Brayden also wants his peers to know about – the value of friendship. The loss of one group of friends and the discovery of a new one has given him something important to say.
"It is really crucial to make sure your friends fully accept you. You should not settle for anything less. Over the last eight months, I have been fortunate to get into this group, not just through basketball, but outside of sport as well."
"My friends are all different from one another, like I'm the only LGBTIQ+ person in the group, but they are literally a godsend – the best people I have met in my life. They've changed my outlook on what friends should be. So, I want to tell other young LGBTIQ+ people, value yourself first, and then choose friends who put the same value on you. It makes a huge difference to your life."
BHP | Principal Program Delivery | Global Co-Lead Jasper, LGBTIQ+ ally network | Mental Health…