Penny Wilson is one of our valued regular donors and has supported The Pinnacle Foundation for the last few years. Penny understands the impact that regular giving has on organisations such as Pinnacle which rely on the generosity of donors such as herself and has made the commitment to support The Pinnacle Foundation financially on an ongoing basis.
Coming from a family with a humble background to now being a Senior Partner at SHK with a very successful career across the Government and Public Policy space, Penny understands the impact that education can have not only on the individual, but their whole family and community, which means Penny strongly believes in the work that Pinnacle does. Below is some of Penny's inspiring story:
How did you become involved with The Pinnacle Foundation?
I have had a level of awareness about The Pinnacle Foundation for some years and knew broadly what Pinnacle does. I then met Andrew Staite, Pinnacle's CEO, as we worked together, and I was amazed at the work that was going on at Pinnacle. I was fascinated by The Pinnacle Foundation Scholarship Program as it was so substantial in nature. I have always had an interest in programs that focus on educational opportunities and creating equity for people, that is very important personally for me and for my family's story. An organisation that is addressing an issue that is continuing to this day in our society, which is discrimination against people with different identifications and sexual orientations, I knew instantly that Pinnacle was an organisation that I wanted to support and be part of.
Sometimes we might think that discrimination against the LGBTIQ+ community is no longer an issue and this notion is such a misconception as this type of discrimination is still very much real and prevalent in today's society. I know of my own experience and the experiences of some of my friends and family who have faced discrimination and can attest to the direct impact that this experience can have on an individual's life. I believe that working towards equality and acceptance is so important and feel that Pinnacle's work is creating amazing transformations in the lives of young LGBTIQ+ Australians. I decided to donate to Pinnacle regularly on behalf of myself and my family, to do my part in assisting Pinnacle to reach their goal of supporting young LGBTIQ+ Australians in finding their path through education and with a community of people who back them and believe in them.
What inspired you to become one of our regular donors?
I have familiarity with the way support organisations work and their funding streams. Whilst I am not able to be an incredibly large donor, I am in the privileged position of being able to be a regular donor. During Covid I had a clearer realization that it is just so hard for young people to overcome challenges and thrive when faced with insecure work situations, barriers to accessing education and support, as well as facing disconnection and isolation. It struck me that for the young people that Pinnacle supports, these challenges are often their normal day to day lives, and by donating regularly I have the opportunity to make a small difference in the lives of vulnerable young LGBTIQ+ people.
Education is so important to me as it saved my family; my family's rise from what economists may call the 'urban poor working class' came through my father's scholarships to university – and that changed the trajectory of my family's future. I know the value of education and mentorship, as I have been a mentee and a mentor. I am an informal mentor for Pinnacle also, which I find very rewarding. I can honestly say that I believe in Pinnacle's mission and think that Pinnacle is an amazing organisation.
Why did you choose to support The Pinnacle Foundation as a regular donor?
I have two teenage children who have challenges, so they are not 'typical' whatever that means. My daughter, who is in Year 12 in Victoria (VCE) was diagnosed in her teens with particular conditions that impact her connection with the world and how she identifies with people. She is very bright and very artistic but struggles at times. Part of that is working out her own orientation, which is a journey. It has been a struggle for my son, who is very intelligent but with his set of challenges finds it difficult to navigate the school system, and we have had to make changes which has been stressful- and we have a stable and loving home situation and I know how to navigate systems. My hope is that people want to support my children, understand them, accept them and reach out to them. So, I want to do anything I can to support young people who may not have this support.
I come from an accepting wider family, on my mother's side, a very big family, they lived in the outlying regions and country and had small working farms, as well as in suburban Melbourne. In a lot of ways my mother's family probably carried the typical prejudices and assumptions of many Australians at the time, but what they were not was prejudiced towards the LGBTIQ+ community. Because of the acceptance that my family showed, it was not until my mid-teens that I realised that there was discrimination against the LGBTIQ+ community at all.
I had friends who had harrowing experiences of discrimination and abuse as a result of their sexual preferences and orientation, particularly when I moved from Brisbane to Melbourne at a young age. I was in the youth theatre scene and I had older friends from acting, several of whom had the awful stories of being evicted or attacked (mentally and physically) by family as a result of coming out. The result was often extreme poverty, homelessness, physical and verbal abuse due to being queer, mental health issues, as well as drug and substance abuse, all due to having to navigate being queer in a hostile family environment. Once you are in that situation it is very difficult to access education and support services. In my peer group, I saw the impacts of this type of discrimination on people's lives and the long-term effects these experiences can have on people. An organisation, like The Pinnacle Foundation, that addresses these issues directly is of great interest to me and one that I believe in and support.
What message would you like to share with the scholars who have gained from your contribution?
I would like to say that I admire the young LGBTIQ+ people that are a part of the Pinnacle program. I admire their resilience and their focus on making the most of their lives no matter what. I hope, and they should know, that they are respected and valued and loved by people broadly across the community. I would also say that the struggles that they have faced and dealt with can stand them in good stead later in life. These challenges will not be something that destroys them, it will be something that helps them to build a successful life.
We invite you to help us provide scholarships to outstanding LGBTIQ+ young Australians. Please visit our donations page: https://thepinnaclefoundation.org/donate/donate-now/.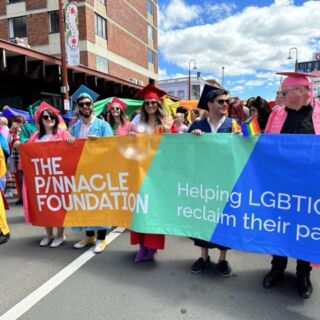 So great to see the Tasmanian Pinnacle Foundation family out and proud (very colourfully) at…