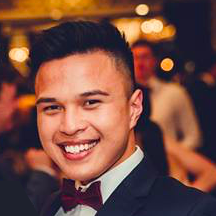 Arts/Law - The University of Sydney
The Hon Michael Kirby AC CMG Scholarship for 2020 has been awarded to Eric Gonzales. Eric (born in 1996, from New South Wales) is about to undertake his final year of a Bachelor of Arts/ Bachelor of Law course at The University of Sydney.
Eric commented, "I enrolled in undergraduate Law at the University of Sydney because it exemplifies the importance of language and history in shaping human society, morality and the social norms that inform our everyday lives. Throughout my studies, I have enjoyed solving complex commercial problems in subjects such as Contracts, Corporations Law and Property and Commercial Law, and I can envisage a career applying what I have learnt to understanding clients' needs, objectives and challenges. Next year, I hope to undertake an offshore unit offered by Sydney Law School called 'Advanced Obligations and Remedies', which is held at Gonville & Caius College, Cambridge."
Eric's academic results have been consistently of a high standard and he was awarded the University of Sydney Honours Scholarship in 2018 and in 2019 he continued to achieve outstanding academic results.
In terms of community engagement Eric is currently a member of ALLin, the LGBTIQ+ network at commercial law firm, Allens. Eric has also been a member of Spectrum, the LGBTIQ+ network at commercial law firm, Ashurst. This has involved pitching ideas for InterFirm events and discussing the ways in which they can better promote Spectrum in the broader consciousness of the firm, and effectively use the committee as a vehicle for community outreach.  In 2019, Eric was the Editor in Chief of Yemaya, the Sydney University Law Society's Gender and Sexuality journal, which provides a platform for non-binary/queer-identifying people to create critical pieces about gender, sexuality and queerness.